We're Pregnant! Acupuncture with Eric always did wonders to help me relax and sleep better, and balance out my body. Hubby and I had been trying to conceive for over a year and a half. We were in the unexplained infertility category, we didn't know what we needed to do. We tried western medicine, but it only messed up my cycle and we decided it wasn't the route for us. I started weekly acupuncture treatments and herbs and after my first cycle, I'm expecting our first child at 35. Thanks Eric!
-M.C.
Good evening Eric!
Hope you are doing well.
I meant to write earlier, but I got little overwhelmed at the beginning with the baby…
Although I really wanted to keep coming for the accupuncture towards the end of pregnancy, I couldn't: I started to be so dizzy, that I couldn't drive the car any more 😛
However – !!! – our miracle baby boy, arrived two weeks past the due date, on August 12th. He was 8.8 lb and just perfect! Now, almost 2 months old, he is the sweetest 12.6 lb bundle of joy, smiling and lightening out days.
I wanted to thank you so much for helping us in this journey. I truly believe you helped us tremendously in the coming true of this miracle and we will always be thankful!
I hope to find some time soon to come over for some more accupuncture sessions.
All the best,
Thank you again,
-M.K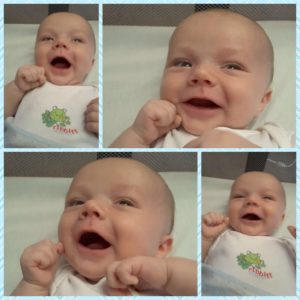 I wanted to thank you again for the acupuncture you provided me on Saturday morning.  After leaving your office, my back was still hurting, but I had faith in your work and was not concerned. Sunday morning when I woke up, my pain was less, but still there.  Finally around 11am it was gone and I had so much energy.  I think I thought I was invincible, because I did a lot of things I needed to get done around my home.  This morning I'm a little sore, but I'm sure its just that.  Thank you again for your help.  It's much appreciated. I am thinking I may want more acupuncture!
–Monica
After suffering with severe sciatic pain in my right leg for about two weeks, at a friend's urging, I decided to try acupuncture. A skeptic by nature I was unsure how effective the treatment would be, however, much to my surprise I had almost instant relief after one appointment. Throughout the following week the pain returned somewhat but nothing like before. I had my second acupuncture appointment a week later and I have been pain free ever since. I cannot praise Eric and his services enough.
-Laura
This review is LONG overdue! I am a 36-year-old-woman who was diagnosed with low AMH (basically low egg count and infertility) in October of 2014 and given less than a 1% chance of naturally conceiving our second child. We were devastated! I immediately sought out natural ways to treat infertility before diving into IVF and other more invasive and expensive treatments. I called several other acupuncture clinics and none of them seemed like the right fit. However, from the moment I first spoke to Eric Hollander on the phone, I knew that he was going to be able to help me. My first appointment/consultation was wonderful! Eric took the time to sit with me for over an hour and just talk about my concerns and how Chinese medicine might help to address them. He was kind, personable, and most of all, optimistic. Unlike the negative attitudes of reproductive endocrinologists with whom I had been consulting, Eric did not treat me or my body as broken. He took the time to listen and encourage. He did not give me false hope (and I didn't want it); rather, he shared stories of other women with similar hormone levels who had gone on to conceive naturally. He also shared stories of others who ended up using an egg donor, which was my other option and I was open to it if necessary. He is an expert in understanding reproduction and the female reproductive system from both an eastern and a western perspective. After that first appointment, I returned home and told my husband that Eric was the most positive person that I had met so far during my journey with infertility, and for the first time in a long time I felt hopeful. I left every western doctor appointment feeling broken, devastated and hopeless. I left my appointment with Eric feeling hopeful, healthy and happy. I cannot thank him enough for simply helping to heal my spirit at a time was I feeling pretty low.
I worked with Eric weekly for the first 3 months of our treatment plan. He prescribed Chinese herbs in pill form during this time. There is a different herb for each phase of a woman's menstrual cycle. The acupuncture felt great and I loved taking the herbs. During the third month, we decided to take an even stronger approach and use "raw" Chinese herbs that I had to boil on the stove and drink the tea. I did this for 8 days during the pre-ovulatory stage of my cycle. That month, much to everyone's surprise, I became pregnant!! My husband and I were thrilled, but also cautiously optimistic as we had been warned by so many skeptical western doctors that my eggs simply weren't good. Eric was thrilled for me when I shared the good news with him! I even brought the digital pregnancy test with me to my first appointment after becoming pregnant just to prove it to him! LOL He was, as always, super positive and supportive, which was just what I needed from him. I continued to see Eric for acupuncture and he put me on a regimen of early pregnancy herbs to help maintain the pregnancy, offset morning sickness and nourish both me and the baby. At our 9 week ultrasound we received the biggest shock of our lives…..TWINS! It was truly a miracle! I was given less than a 1% chance of conceiving naturally, and now we are having not one, but two babies! I am Eric's first ever patient to have such poor AMH and conceive TWINS naturally! He's had plenty of patients with similar outlooks conceive singletons, but not twins.
I am now 26 weeks pregnant with boy/girl twins and we are all doing great! I continue to see Eric monthly to help with pregnancy-related symptoms and overall wellness and relaxation. I plan to see him even more frequently in the postpartum period to help with my recovery and milk supply.
I trust Eric 100% and appreciate him and his wisdom more than words can express. If you are struggling with infertility, please be sure to take care of yourself physically, emotionally and spiritually. I know how difficult that journey can be….full of self-doubt and sadness. Please know that there is hope for you! And please give Eric a chance to help you….he is truly the best! Good luck to you all, and THANK YOU, ERIC!
–Jamie H.
"I started seeing Eric at Fertility Points Acupuncture, because my husband and I were having trouble sustaining a healthy pregnancy. After three years of trying and ectopic pregnancies and miscarriages we decided to give acupuncture a try in April of 2016. In July of 2016 we got a positive pregnancy test. I continued to see him to maintain a healthy pregnancy and we are now expecting our sweet girl any day. (Side note, he has also helped me a lot with pain management as well). Good Luck to you!"
-DP
I first started seeing Eric Hollander when we started to try to conceive. I wanted to seek an alternative method of managing my fertility problems, as I was told that I was not ovulating and I would have to undergo different types of fertility tests and treatment in order to conceive.  Within just a few sessions of acupuncture with Eric I was able to ovulate.  I learned so many things about healthy eating and how to naturally support our reproductive systems.  Since then, not only has Eric treated me for fertility issues but also for various symptoms such as fatigue, stomach irregularity, stress, and even to regulate my menstrual cycle and become pregnant.  I am currently in my 21st week of pregnancy and we are very grateful for Eric's guidance through this process.  He has a true gift of listening and makes you feel completely at ease, even if you're scared of needles like I was. I'm so thankful to have found another way to maintain my health now and in the future.
–Jessica Paredes
Very Professional Care! Eric is extremely professional and very accommodating. When I leave his office I am so relaxed that I feel I have just had a massage!
–Nicolle M.
I have been seeing Eric for acupuncture treatments for a couple of years now. He is extremely compassionate and knowledgeable. I have had great results with any symptoms, including those random aches and pains. My menopausal symptoms are gone without the use of hormone replacements! My overall health and is the best it has ever been in my life. I would absolutely recommend Eric and Fertility Points Acupuncture! He is awesome!!
–Patti S.
I chose to try acupuncture after struggling with infertility for many years. I had spent thousands of dollars on medical treatments that did not result in pregnancy. I was skeptical of acupuncture when I started, but Eric immediately made me feel at ease. It is very clear that he has a lot of knowledge and experience in this field which he's always willing to share. After receiving acupuncture treatments with Eric, I was able to achieve and sustain a healthy pregnancy without any other medical intervention. I continued to see Eric throughout my pregnancy, and the treatments were crucial in taking away my morning sickness, back pain, and helping me have a "textbook labor and delivery" per the medical staff. I returned to Eric again when my husband and I were trying to conceive our second child. I was able to get pregnant again with the help of acupuncture, and just as with the first pregnancy, Eric's treatments were incredibly helpful in reducing my morning sickness and lower back pain. I will be forever grateful for his part in helping my husband and I become parents.
–Heather Reeves
I originally started going to Eric for acupuncture for menopause symptoms, which I am very happy to say have helped dramatically! However, while getting great results for my menopausal symptoms, he has also helped relieve pain in my back, neck, hands and problems I have always had with my stomach. I would absolutely recommend anyone to go to Eric for acupuncture to help with any type of pain or problem. Thank you very much Eric!!!!
–Mary Davis
My husband and I were trying to conceive for a year prior to our acupuncture treatments with Eric Hollander. I was dealing with large fibroids in my uterus and low AMH while my husband had low male factor. We were very concerned about being able to conceive a child within a year as I was already 40 years old at the time. Our fertility specialist mentioned that acupuncture had been very helpful for other couples so we quickly began seeing Eric on a regular basis to address our individual fertility issues.
Eric treated us with needles and Chinese herbs for about 6 months before we conceived. I truly believe that acupuncture was an essential part to our becoming pregnant so quickly and for having such a healthy pregnancy. I later delivered our baby girl, Natalia, at exactly 40 weeks. We knew my uterine blood flow could be highly compromised with the large fibroids I have. I'm certain my daughter's good health and development is due to the good blood flow acupuncture created in my womb.
As for Eric's capabilities as an acupuncturist, we simply think he's the best. He's very sensitive to ongoing changes in your body and what particular meridian points need to be addressed on each visit. He also has a wonderful bedside manner and always strives for providing you the best care.
I would recommend his acupuncture practice to anyone who needs it. We continue to see him for general health maintenance with colds, allergies and back problems.
–Christina M.
My husband and I moved out to San Diego from Canada 3 years ago, and we had both experienced amazing results from using acupuncture in Canada, both with fertility and general medical conditions. We tried a few acupuncture clinics in the city, and were not impressed with the results….until, that is, we met Eric Hollander! Up to this point we were feeling pretty discouraged that we were not going to be successful in finding a great acupuncturist in San Diego, but that all changed after our very first treatment session with Eric. Aside from being extremely knowledgeable and professional, Eric is a very kind and nurturing individual who takes any apprehension or anxiety one might have about the treatment away. But most importantly, he is INCREDIBLE at what he does! From fertility issues, to herniated discs, to general health, Eric has it all covered. My husband and I have had so much success with his treatments that we now go weekly to see him. We feel that this is the best money spent for us, and it has taken the place of many other elective treatments we might have gone for such as massages, etc. It provides us with what we believe to be a proactive approach to our general health and well being, and we have the results to prove it. When acupuncture is done properly by a skilled and talented practitioner, it can change your entire physical, and in turn emotional well-being. My husband and I are committed for life, and will continue to recommend Eric to all of our friends and family with the utmost confidence. Don't look any further for acupuncture services for all conditions-not just fertility….it doesn't get better than this!
–Gina G.
I am 43 years old and a mother of 3. I cannot say enough about Eric. He is excellent in his craft (Acupuncture). I was diagnosed with a pituitary tumor in my brain July 2007. Immediately after I found out about my tumor, I began to change my diet, began a regiment of Herbs and received intense acupuncture treatment from Eric. When I went back to my endocrinologist almost two months after my diagnosis, I wanted them to take a new blood test to see if my prolactin was down due to acupuncture treatments. My Endocrinologist said to wait until I started my medicine. So, I paid a private agency to have my blood levels checked to see if acupuncture was working. It was! My blood levels had dropped from 67 to 51 in a month. My doctor disagreed with taking herbs and acupuncture. I was prescribed Bromocriptine to help reduce my tumor. I was fearful of the side effects. Eric reassured me that he could help with the side effects by continuing with my herbs and acupuncture. I did this and only took half of the prescribed Bromocriptine, because I believed acupuncture was helping me. I had no side effects and a month and half later I went back to my doctor for a follow up to check my blood levels. My blood levels had dropped to a 7 in less than 2 months. I was back to normal. Thanks to the expertise of Eric, and his acupuncture techniques, my health had improved so well that I recently found out I am pregnant. I wasn't even trying!
–Tracy G.
I first learned of Eric a decade ago after weeks of observing a coworker's unusually calm demeanor in the midst of his noticeably stressful job. When I asked him his secret, he explained that in the past he had been so stressed out and anxiety-ridden his wife begged him to seek care. I was stunned to hear that Eric's acupuncture and herbal treatments was the key to his striking transformation. I had a terrible cough for 6 months that wasn't going away, as well as nausea when eating raw veggies and fruits, blisters on my lips, and other signs my body was out of balance so I was curious how Eric might be able to help. Eric gave me the most thorough consultation I've ever experienced in the healthcare industry, gave me dietary advice, and began treating me for each deficiency. Within a week on his custom tea prescription, the cough went away and never came back, and the other issues resolved over the next few weeks and months. My liver readings had improved when I got my blood work back, and my allergies and phlegm lessened dramatically when I implemented his dietary advice. Now in my late 30's with no children, I elected for Eric's pre-conception and pregnancy treatments and conceived a short time after seeing changes in my cervical mucus and other factors. Several friends and family have experienced great improvements from Eric's treatments as well. I consider Eric my most valuable partner in my long-term health. Plus the treatments are so relaxing and he is a wealth of knowledge for nutrition and health questions. Very wise and approachable, you will love him!
–Amy H.
My sister was the one who first introduced me to Eric and acupuncture in general. She had had such great results from it that I wanted to try it for myself. I've had a hormone imbalance and very heavy irregular periods all of my life. I also have had hyperhidrosis which is excessive sweating, as well as lots of stress and anxiety.
When I first visited Eric I was under a particularly high level of stress and having all of my symptoms very severely so I was really desperate for help. He did a very thorough analysis of me to get insight into the causes of my issues, did my first acupuncture session and gave me some herbs to start with. I felt better after my first session so kept going regularly. That was probably almost a year ago and I've been going consistently ever since. My periods are now completely regular for the first time in my life and I've had a great reduction in my stress and anxiety and hyperhidrosis symptoms. Every time I do a session I fall into a very deep state of relaxation that feels very healing so I really enjoy and look forward to going. I also know that if I ever have something especially stressful coming up, I can schedule am acupuncture appointment around that time to really help ease and relax me through it.
I would definitely recommend anyone to try acupuncture from Eric. It's been a real life saver for me. If you have stress or anxiety or other negative symptoms acupuncture may be just what you need.
–Erin
My experience of receiving acupuncture from Eric throughout my efforts to achieve pregnancy has been supportive and profoundly beneficial. After each appointment, I feel a noticeable increase of energy and ease in my body. Through the use of acupuncture and herbs, Eric has helped me to fully relax and allow my body to release tensions, both physical and emotional. Eric's attentive and compassionate nature put me at ease and supported me in fully opening up and receiving the work. In addition to his caring ways, Eric possesses an intuitive and intelligent quality that guides him to know exactly what to do with confidence. I am forever grateful for the care that I'm receiving!
–Martha Aldridge
My husband and I tried for a child for almost a year with no luck. After meeting with Eric Hollander, we learned my cycles were very long and irregular. In addition, my husband was found to have mild male factor.
My husband and I started to receive weekly treatments and herbs from Eric and within a few months, we were pregnant.
Once pregnant, I received acupuncture to relieve symptoms of morning sickness and also to strengthen my body to prevent miscarriage. At 36 weeks, I returned to Eric for more acupuncture to prepare my body and cervix for labor. At 40 weeks, I went into labor and was able to deliver naturally without pain medication.
Now we have a beautiful son at home. Thank you Eric for giving us our son, and our bodies what was needed to have a natural pregnancy and childbirth!
–NM
Eric has been my acupuncturist for approximately two years. My husband and I were having problems conceiving and our fertility specialist strongly recommended that we use him. I was quite apprehensive before starting my treatment but Eric made me feel at ease within a few minutes after I met him.
I saw Eric on a weekly basis for several months. My husband and I eventually decided to use in-vitro fertilization in order to conceive. Eric came to the fertility clinic the day I was having the procedure done and did acupuncture on me right before and right after the procedure. I felt very relaxed during the entire process. Two weeks later, I found out that I was pregnant. I am now 4 months pregnant.
I truly believe that the treatment that I received from Eric contributed enormously to my success in conceiving a child. I would recommend him to anybody who is having fertility issues. He is extremely knowledgeable and has excellent bed side manners.
–Marjorie J.
After almost 1 year of dealing with the bureaucracy and inefficiencies of the worker compensation system, I gave up on it and decided to take control of my health: this is when I started my treatment for carpal tunnel syndrome with Eric at hollander, despite my previous doctor opinion that it wouldn't work. I noticed improvements since the first session, the pain diminished gradually, and I didn't need to take anti-inflammatory medicines to control the pain. The strength of my hands improved in a way that today I can do everything that I couldn't do a year ago: I am back to the gym and I can unload my car after going to the grocery store; I do not need help to carry my baby nephew, open jars, dry my hair, take out the garbage, and do many little things that were impossible just 3 months ago. I am still working in front a computer the whole day, and sometimes I play video games with my son. And about that medicines and pain relieving creams that didn't work and are quite expensive… I threw them out in the garbage this New Year's day! Thank you Eric for giving me my life back!
–Najla Abdala, San Diego, CA
I had been a competitive mountain bike racer in my 20's, and years of crashes and injuries took there toll on my knees, leaving me with frequent knee pain, and arthritis in my thirties. After hearing about recent studies that acupuncture can help bad knees, I decided to make an appointment and give it a try. I was very pleased to find that after my second treatment most of my knee pain was gone! I am still not kind to my knees since I have taken up Muay Thai, but it is good to know that I can go back to Eric Hollander whenever I need a tune-up.
–T.Y. San Diego, CA
I am currently seeing Eric Hollander (aka miracle worker!) for chronic low back pain, irregular menstrual cycle, and digestive problems. I have only had 3 treatments so far, and my back pain is 90% better with no shooting pain! My menstrual cycle was off because I was without it for 2 months, but after my visit with Eric, he literally got my "qi" flowing back to regular only after 1 treatment. After returning from vacation, I was suffering from major digestive problems from eating out and eating the wrong foods. I was relying on laxatives the entire week while I was away. When I returned home to see Eric I explained to him of my digestive problem and he worked his magic. The very next morning my digestive system thanked me and I was back to normal.
Like I said before, Eric is truly a miracle worker. He can treat anything from backaches to menstrual problems. I never believed in acupuncture until I tried it, and now I know that it truly works. I couldn't imagine my life without it!
My body thanks you Eric!
–Nicole
Eric Hollander changed my life. I initially came in because for ten years my hands and feet were always ice cold. I thought it was a hopeless cause, just a curse of being a woman. Eric fixed this in no time and then began to fix things I didn't even realize could be fixed. No more irregular periods, no more bloating and cramping, no more gaining 5 pounds of water weight each month, no more constipation, no more brain fog, no more dark circles under my eyes, no more intense sugar cravings, no more afternoon fatigue – even my skin is smoother.
I was skeptical at first, and had never tried acupuncture before. I told myself I would give it three appointments and if I didn't notice a change, I would stop. I noticed a change after my first appointment. I have been visiting Eric regularly for over a year because each time I feel stronger and healthier. If I didn't think it was so essential to my health and well being, I wouldn't keep coming back. He is amazing! I trust him as one of my primary healthcare partners. He takes time to get to know you and your health concerns, more than any other doctor has ever done.
I recommend Eric to everyone I know because he is the best!
–Courtney
Hello Eric,
Congratulations on opening your own Practice!!
You have been on my mind for the past few years. I've wanted to give you a huge thank you for being a part of the team to help fulfill a dream, and finally complete our circle. It's been quite a few years now, so I am not certain that you will remember me and my husband Earl. We came to you weekly (2010) before and during our IVF treatment, and I continued throughout the first trimester of pregnancy. The third trimester was a bit of a challenge. I had surgery, was on complete bed rest for two months, and we made the transition from Hemet to San Diego. In the end, we delivered a healthy baby girl!
I just wanted to send you best wishes in your new endeavor, and say thank you and thank you!
Warmest Wishes,
–Van, San Diego, CA